Buttressing the mind of the photographer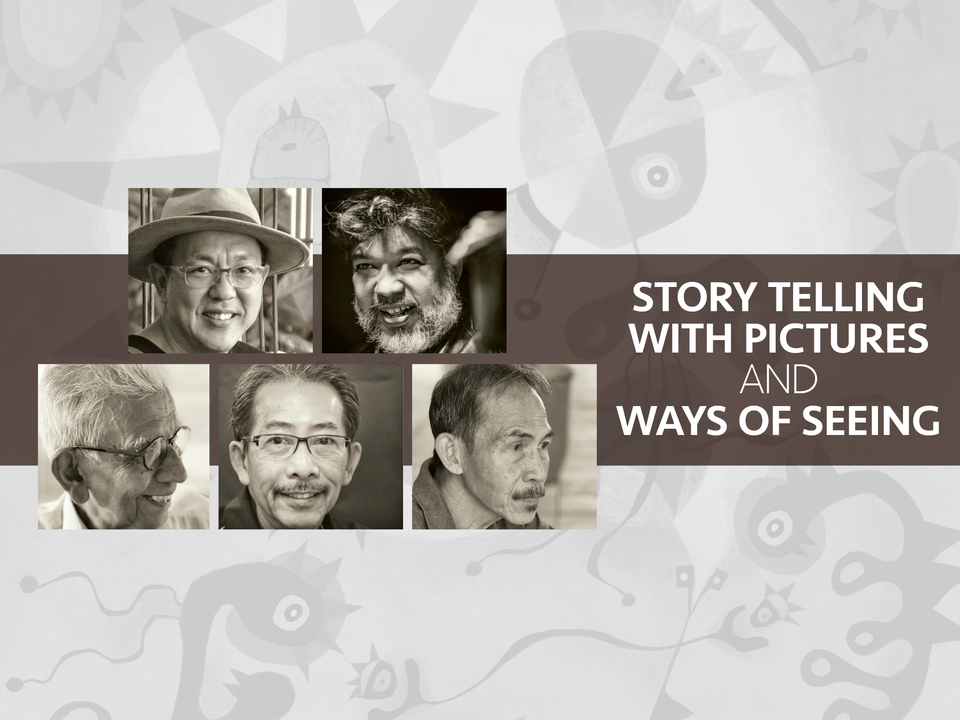 Five photography stalwarts to discuss approaches to photojournalism, aerial, landscape and abstract photography, and darkroom printing
OUR KNOWLEDGE of photography has become shallower even as the tools of the trade — smartphones, digital cameras and efficient editing tools — proliferate and become more sophisticated. To help counter this negative trend, five photography stalwarts are coming together to share their views.
The focus will be on how professionals think — how they approach such fields as photojournalism, aerial, landscape and abstract photography, and darkroom printing.
To facilitate this, there will be two dialogue sessions on Oct 29 and 30, in conjunction with an art exhibition, Restart 2020: Continuation and Change, Biographical Expressions by Lim Siang Jin. The venue is Bookmark Exhibition Hall, A Place Where by APW in Bangsar. Both are from 2.30pm to 4.30pm.

The first session on Oct 29 entitled "Telling Stories with Photos" features David ST Loh, an internationally-published award-winning author, photojournalist and aerial landscape artist, and Jahabar Sadiq, seasoned journalist and skilful photographer with decades of experience in Malaysian and international media.
This will be moderated by Khoo Hsu Chuang, a journalist and entrepreneur who is also a photography enthusiast.
Meanwhile, the other dialogue on Oct 30, themed "Ways of Seeing", will bring together three accomplished Malaysian photography veterans — Eric Peris, KF Choy and Alan Ng.

Eric Peris, who will speak on the main theme, has had over 40 exhibitions since 1980 and is known for establishing modern photography as a recognised art form in Malaysia. Joining him will be KF Choy who will present "Photography: From Capture to Print". Alan Ng, a black-and-white film photographer and printer, will talk about "Black and White Film Photography and Darkroom Printing".
This dialogue will be moderated by Faisal Ariff, an avid photographer who has taken travel, portrait and humanitarian photographs for 16 years.
Lim Siang Jin, who believes bridging the digital-analog gap in art opens up new creative spaces, has purposely incorporated these dialogues as part of his exhibition. He says: "While technology is great at making us efficient, it may also make us do things more and more mindlessly. We are seeing that in photography. Phone cameras and highly-automated SLRs are removing the human factor. By themselves, these devices may produce good art but never great art that requires detailed human thought and action.
"It is my hope that these mindful discourses on photography will enrich the digital-analog creative space."
*     *     *     *     *
Restart 2020: Continuation and Change, Biographical Expressions by Lim Siang Jin is a solo art exhibition that showcases nine series of painting by the artist. To learn more, visit www.limsiangjin.art . It runs between 21st and 30th October, from 10am to 6pm daily at Bookmark Exhibition Hall, A Place Where by APW in Bangsar, Kuala Lumpur.
The venue prides itself in being an innovative space that places importance on "purposeful togetherness", where both space and art intersect, where connections are made between space, people and work.
About the Speakers
Alan Ng (Siew Hong) spent 20-odd years working in a photo lab churning out large format analog prints in the darkroom. "Then came digital technology which let light into the darkroom and, hence, I was put to early pasture. Interestingly, there is actually a picture editing program called Lightroom widely used by photographers now, but I have been dabbling in black and white film and old school darkroom printing on a hobbyist level." Besides his photography pursuits, he has done quite a bit of hard trekking and camping in the forest, especially in the highlands. His forays into the wilderness has become less frequent since the new rules of compulsory guides and permits were enforced.
David ST Loh is an internationally-published award-winning author, photojournalist and aerial landscape artist. He is famous for creating iconic and captivating images with great story-telling for his clients. He has been a paragon of innovation in the media industry for over 30 years, most of which were spent at the distinguished news organization, Reuters Ltd. He has worked as a photojournalist and subsequently as an editor at the award-winning global pictures desk at Reuters.
Previously based in Kuala Lumpur, London and Singapore, his images have graced many books and global newspapers, including the New York Times, Washington Post, Financial Times, UK Times and others. David was a jury member for the China International Press Photo 2016 competition. He left Reuters in 2016.
Returning to Malaysia after being based in Singapore for more than 20 years, David and his wife, Rebecca Lee established Elaton Asia Services and Elaton Publishing. In 2019, they published Over Penang, featuring unique and iconic aerial images across Penang. The book hit the best-seller list having sold 2,000 copies within four months. The book won the best book award in the Malaysia National Library Book Award 2020, under the English category. Their second book, Simply Penang was published in 2020 and showcases the vibrancy of Penang and its food. Both Over Penang and Simply Penang are now considered the best pictorial books on contemporary Penang that the Chief Minister Chow Kon Yeow and various companies are using to promote the state.
David is also the recipient of 'The Most Inspiring Entrepreneur in Photography and Art' at the prestigious SME and Entrepreneurs Business Awards (SEBA) 2022.
David and Rebecca also run a successful fine art photo gallery in George Town, Penang that house Ilford's second print gallery in the world. He has held several successful solo exhibitions in Malaysia and Singapore. They have helped raise over RM700,000 for the Methodist Boys' School building fund and the Penang Governor's charity foundation through their books and images in 2022.
His work can be seen on www.davidstloh.gallery and https://davidstloh.exposure.co
Eric Peris, born in 1939, a distinguished photographer, is of Sri Lankan descent and known for establishing modern photography as a recognised art form in Malaysia. Eric's works became the Malaysian photographic classic, simultaneously establishing the benchmark for other photographers to emulate.
A Buddhist, his works speak volumes of his compassionate worldview and philosophy. His sensitive eyes guided the compelling tonal ranges he was able to bring out in his mastery of light and shadow in his photography. His works communicate a poignancy and depth of understanding that resonate with the Energy and Spirit of Mother Nature. More than others, he is acknowledged for bringing to the fore the distinctive beauty of the Malaysian landscape.
His minimalist images send a strong underlying message of the transience of Life and the ever-changing flux of Energy, which permeate our complex Universe. Eric owes his artistic direction to his father, O Don Peris, who was himself an established royal artist of Johor, known for his landscape and portrait works.  However, it was Eric's mother, who was his muse and the guiding light of his creativity. Eric is a self-taught photographer.
He was a photojournalist of the New Straits Times for 24 years becoming eventually its photo editor, during its hey-days as Malaysia's most popular print media. Eric was photographic consultant and coordinator for the Trans-Borneo Expeditions 1988-1990 and Co-chairman of the yearly National Productivity Photographic Contest of National and Asean Level 1986 and 1991. He was part of the panel for the Malaysian Press Institute's annual Press Photography Awards since 1996 for Peninsula Malaysia, Sabah and Sarawak. Eric has held more than 40 solo exhibitions since 1980 and took part in several group exhibitions in Malaysia and overseas.
He has received the National Art and Visual Gallery Award for contribution to Photography. Eric has published a few books such as Landscape – A Photographic Study of the Tin Mines Landscapes of Malaysia (1980); Images of Gitanjali – a pictorial study of the poetry of Rabindranath Tagore (1984) and The Malaysian Heritage Homes – a photographic study of the architectural influences in Malaysia (1989).
[Source: The Sutra Foundation]
Jahabar Sadiq is the chief executive officer and editor of The Malaysian Insight and has been a journalist in print, news wires, television, radio and internet since 1988. He has extensive experience in news and feature reporting, covering politics, economy, courts, environment and others in all media, either text, video, radio and multimedia. Previously he led The Malaysian Insider which was shut down in March 2016. He was a senior producer with Reuters Television, the international news and information broadcast agency, from 1998 to 2009, interviewing world leaders, captains of industry and others from Afghanistan to East Timor. He had also had an earlier stint in Reuters as a political and economic news correspondent and was briefly a television producer in AP Television. He started his career in the New Straits Times where underwent a six-months journalism course and spent a year in Business Times before joining Reuters Limited in 1994. He takes photographs in his spare time.
KF Choy (Choy Khye Fatt) is a full-time artist focused on landscape and abstract photography. A corporate retiree, he lives and works between Kuala Lumpur and Penang. Choy's intuition of art was fervently set from adolescence, surrounded by family members that are recreationally involved in the arts and music. Working in analog and digital, he interprets metaphors into a journey of awareness, and advocates "capture to print", the intuitive interface of "end to beginning". He has held solo and group exhibitions with works contributed to various coffee table books.
About the Moderators
Faisal Ariff is a travel, portrait and humanitarian photographer. He picked up his first "proper" camera as student in New York in 2006. Cameras have since accompanied him on solo backpacking adventures through the Americas, Europe and Asia. Volunteering with a humanitarian organisation for two decades afforded him the privilege of documenting conflict zones and environmental tragedies, notably the Afghan war, the invasion of Lahad Datu, floods in Sri Lanka and Kelantan, and Super Typhoon Haiyan/Yolanda in the Philippines. His photographs can be seen on www.faisalariff.com/photos. Faisal graduated from Cambridge University and Columbia University, where he was on a Fulbright scholarship.
Khoo Hsu Chuang is a journalist and entrepreneur. He has over 25 years of experience in various areas of the financial services industry, and in the media, in print, newswire, internet, radio, and digital television. Currently, he is the person behind Do More, which began in 2012 as a corporate content consultancy, adding podcasts and media spokesperson/crisis training in the present day.