Oct 21, 2023: A personal milestone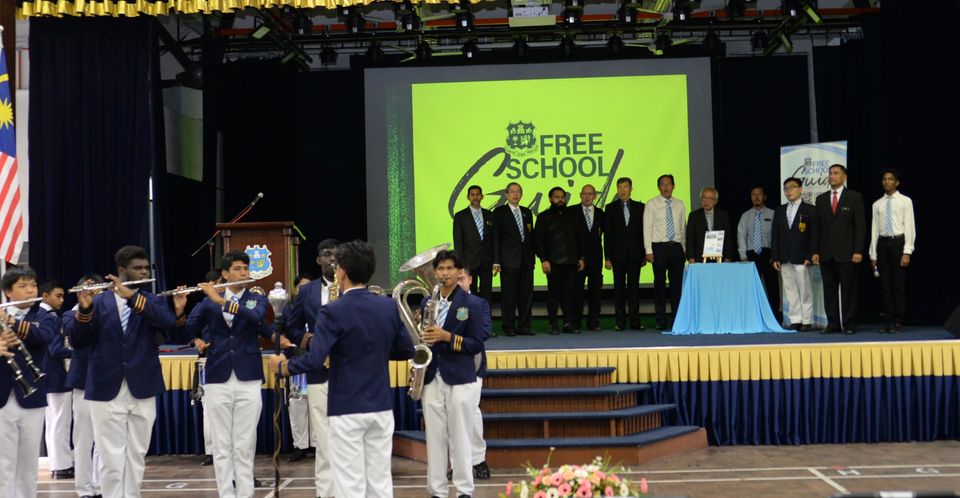 OCTOBER 21, 2023, was special to me. I had used it as an overall absolute deadline to complete many pieces of work for Penang Free School. Many of the projects were, of course, rolled out eartlier. The school celebrated its 207th year on the day. It was also the day The Old Frees' Association (OFA) culminated a year of celebrations of its Centenary. The projects I tied the date to are the following:
On September 28 to October 3, I held my second solo exhibition called "Our Legacy: Landmark Memories of Penang Free School" at the OFA building along Northam Road (now Jalan Sultan Ahmad Shah). It was held in connection with the association's Centenary celebrations. Read here and here.
On October 9, we launched the Free School Guide (FSG) at the Pinhorn Hall during a special assembly organised by the school. Read here. This project had its beginnings as early as 2017 when we decided to produce videos on the school's history.
October 21 saw the dissemination of FSG material at Speech Day and the anniversary dinners of the OFA in Penang, OFA of Kuala Lumpur and Selangor, and the OFA Singapore. I also began selling a book on my exhibition at the events in Penang and Kuala Lumpur.
For these, Leonard Selva, Senior Assistant of Students' Affairs, PFS, wrote the following tribute to me and my project partners. We are very thankful for this.
I firmly believe that young Frees should realise that their Free School experience doesn't end when they reach Form 5 or 6; they will have a lifelong walk with the school. Though they may never walk the aisles as a student in later life, they walk with the school as its heirs, much akin to lifelong bonds with the Mother. That's the only explanation for so many Old Frees giving their unreserved service to their Alma Mater long after they have left school. After all, the term Alma Mater in Latin refers literally to The Bountiful Mother, overflowing with positive values and engaging in meaningful character development.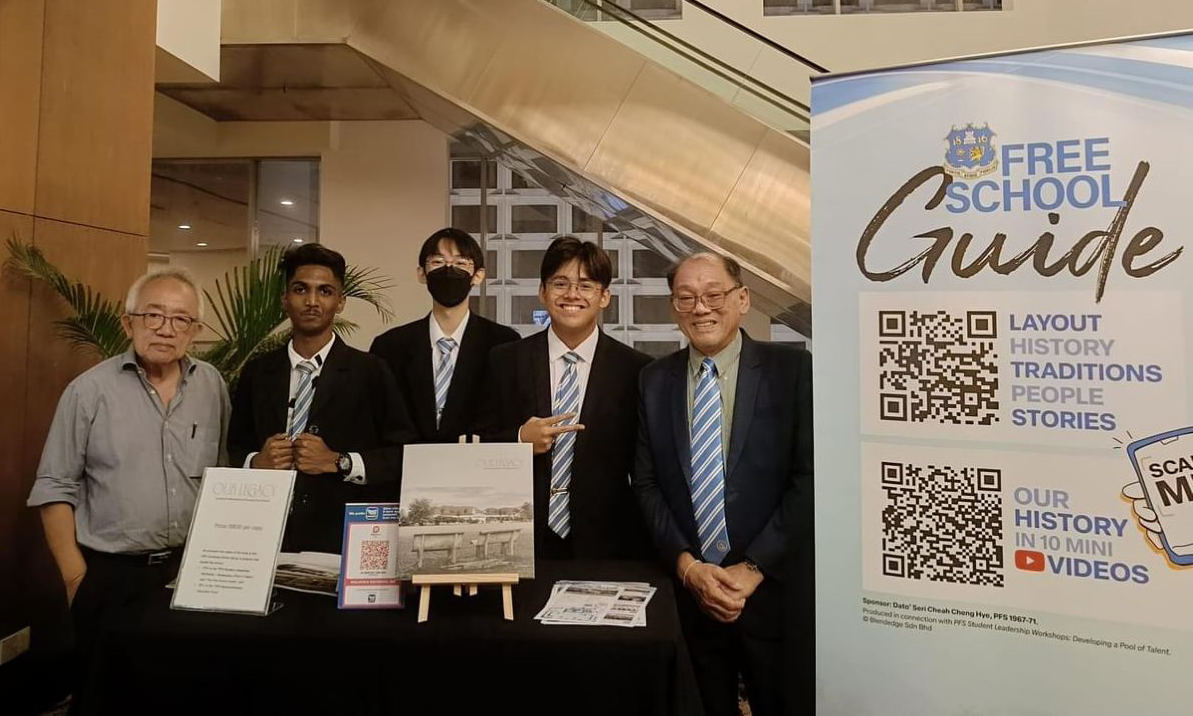 I would like to carry, for the record and with great appreciation, pieces written by Loh Lean Kang and Quah Seng Sun about our projects. They have been published as appendices in my book.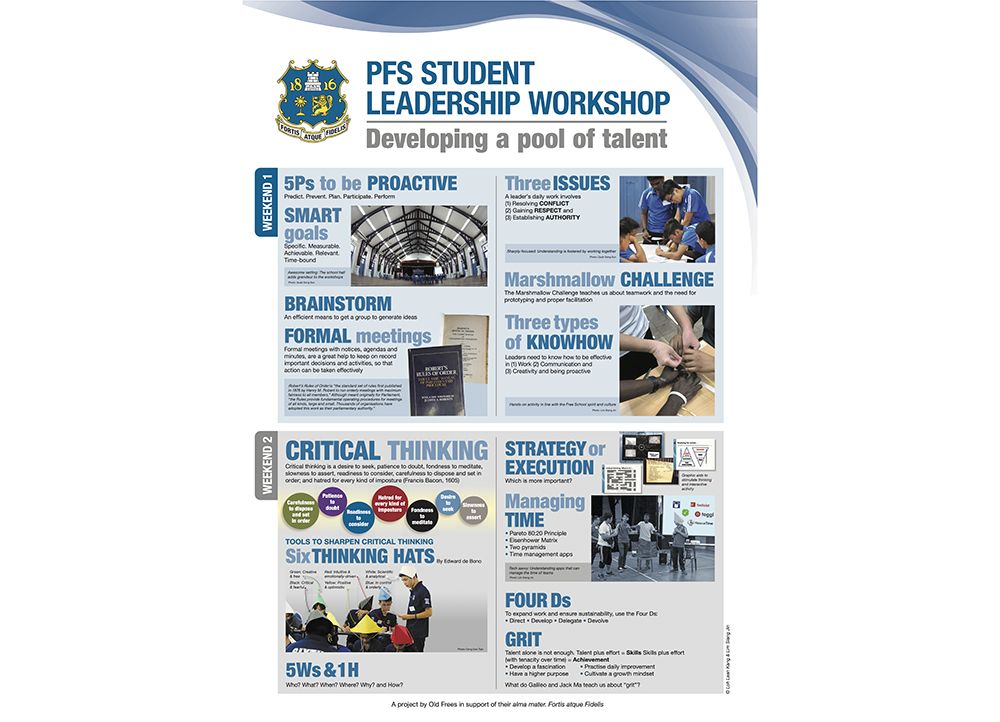 Virtuous Cycle for a Living Legacy by Loh Lean Kang
It is not what you know, but what you do after you know, that makes a difference. I believe strongly that most of us in today's society of overwhelming information, data, analysis and social media, are paralysed or seduced into inaction. Many can describe at great lengths and detail the problems and even their solutions, but probably will be at a loss if placed in a position to take the first step to move things in the right direction.
My partnership with Siang Jin started in 2015 when we found ourselves working together for the 150th Anniversary of the Penang Free School Board of Prefects. I had finally returned home after a quarter century working abroad. I was shocked at the state of education in the country in general, and the PFS institution in particular. Siang Jin and I lamented the situation but also felt that the anniversary celebration should not be a one-time feel-good factor.
The 150th Anniversary gala event was successfully carried out and 69 photographs of the BOP, dating back to 1934 were recovered and reproduced into a 64-page booklet. Siang Jin played a major, and pivotal, role in producing the book. The following year, we collaborated to upgrade the Prefects' Room which was in a poor state. The aim was to make it into a contemporary room and a living physical model so other Frees can take on similar projects for the school.
We focused next on soft skills, historically integral to education at Free School. With strong support from the new Headmaster, Encik Omar Bin Abdul Rashid, we committed to a five-year programme called the "PFS Student Leadership Workshop – Developing a Pool of Talent". Started in 2017 with generous sponsorships from Old Frees, it continues to this day under Headmaster Encik Syed Sultan Bin Shaik Oothuman.
After a couple of workshops, we discovered a need to inspire the students further by informing them more about the school's heritage. In this respect, we were fortunate to have in our team, Quah Seng Sun, author of the 353-page Let the Aisles Proclaim: The First Two Hundred Years of Penang Free School (1816-2016). In 2018, Siang Jin suggested we turned its contents into 10 short videos. A year later, the videos, produced with the help of Seng Sun and a team of Old Frees, were uploaded on YouTube.
They are now part of the recently-launched Free School Guide (see Appendix 2: A Guide to Bridge Generations) co-produced by Siang Jin and Seng Sun. Some people call it a "cyber museum", a wealth of historical facts accessible via a few QR codes.
Today, Penang Free School is a living legacy. The building is filled with students and staff. The classes and field are occupied and full of activities. We hope we have made a difference to the school as a whole to keep this legacy alive. It has been eight years since Siang Jin, Seng Sun and I started our collaborations and it has been a rewarding experience. We never imagined at the start we would sprout all these shoots. I hope many more would join us to contribute to our alma mater.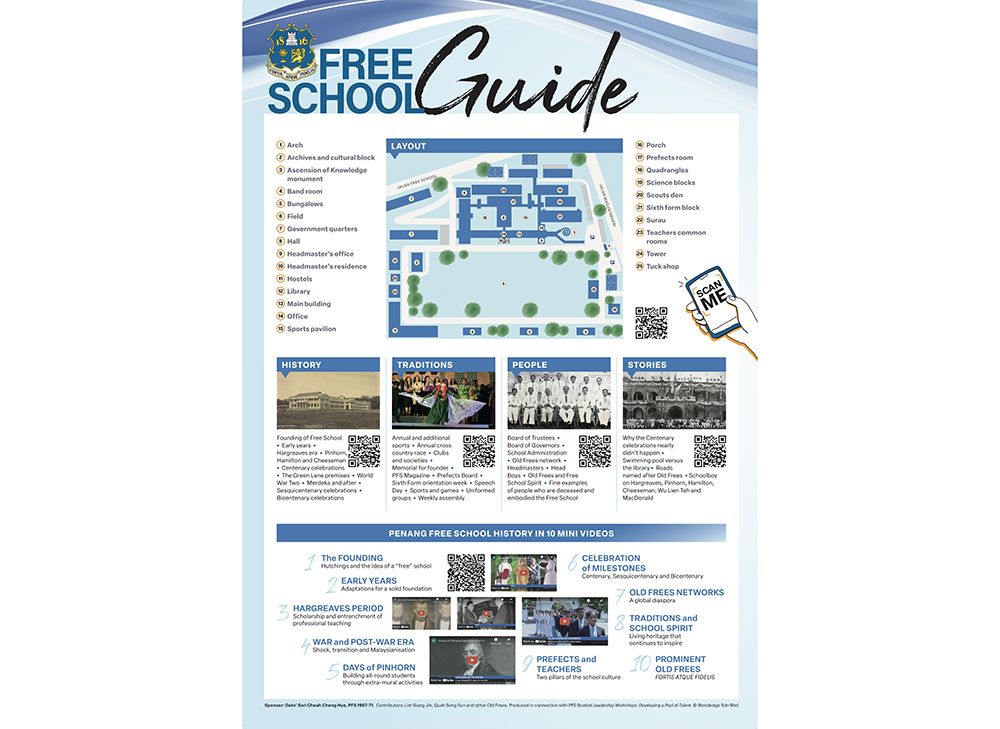 A Guide to Bridge Generations by Quah Seng Sun
I have known Siang Jin since our early days at Westlands Primary School in Penang, and our Old Boys connection has evolved into a remarkable collaboration for us. Our joint endeavours commenced in 2011, and it was during the realisation of a heritage project in George Town that I truly grasped the depth of his commitment to detail and quality.
Our creative synergy deepened further in 2017 as we embarked on a series of videos aimed at promoting the legacy of Penang Free School. Here, his planning and dedication ensured that our collective efforts bore fruit in a product that filled us with immense pride. These videos have since found a global audience through YouTube.
While these ten video films represent a pivotal step towards offering viewers a comprehensive audio-visual chronicle of our second alma mater, Penang Free School, our ambitions went further. Amid the challenges of the Covid-19 pandemic, we devised plans to elevate our work to even loftier heights. Thus, we have today this Free School Guide, a project that combines the videos and a unique Penang Free School Wayfinder System.
The Free School Guide, though seemingly static in its presentation – a collection of posters with QR codes placed strategically around the school premises on Jalan Masjid Negeri (formerly known as Green Lane) – is far from a mere static display.
By scanning a QR code of the Wayfinder, users are seamlessly transported to an online repository of Penang Free School's history. This digital accordion of knowledge unfolds before their eyes, offering a rich tapestry of insights and stories that span the school's journey through time. The intuitive interface enables the users to unearth information by simply tapping on links that lead to ever-deeper layers of discovery.
Other QR codes take us to the videos which are essentially chapters of the 353-page book authored by me and published by The Penang Free School Foundation. Let the Aisles Proclaim: The First Two Hundred Years of Penang Free School (1816-2016) was released during the school's Bicentenary in 2016.
The Free School Guide is now coupled with a team of students who bring the school's vibrant history and cherished traditions to life. These student guides will usher visitors through narratives that encapsulate the essence of Penang Free School.
In the spirit of unity and shared purpose, we are also forging alliances with the alumni bodies, namely, The Old Frees' Association in Penang, Old Frees' Association Kuala Lumpur and Selangor in the Klang Valley, and The Old Frees' Association Singapore. These collaborations will extend the reach of our endeavour and allow these information posters and related materials to find a home within these bodies.
Summing up, the Free School Guide is not merely a commemoration of the past; it is a bridge that connects generations and a testament to the enduring legacy of Penang Free School. We hope the Free School Guide will continue to ripple through time and leave an indelible mark on all who embark on this journey of discovery.